Natuzzi Editions Umberto B790 With great urban styling.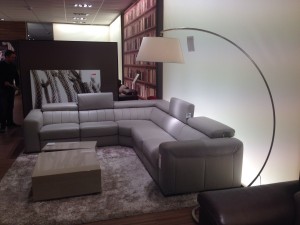 Many people go the extra mile when buying a new sofa or suite, and for some the journey to ownership is as Interesting, exciting and fulfilling as the day it's delivered.
Natuzzi as one of the most innovative and stylish manufacturers of sofas, beds and furniture in the world do not disappoint with the model we are about to review in this article. Born from the Natuzzi design centre in a traditional area of Italy, neighboured by Olive plantations and a mozzarella factory, Natuzzi have created a design classic with the Umberto.
Selection of leathers or fabrics transforms this modern contemporary design, from Urban and Avant Guard in a stone, whites, or greys to rustic and rural in natural or moleskin, pull up or Maddison leather. Natuzzi Brio features manually or electrically powered rising headrests along with extending footrest and glide forward (wall away) reclining motion. A new Innovation for The Brio is a Smart or I phone app to control the recliner motions on the electric version.
Natuzzi Umberto features a deep medium soft seat and backrest support very comfortable for tall users, and high back naturally once the headrest is in the up position. Value for money is an objective conversation, as The Umberto has a very high level of finish, tailoring and style design.
The Natuzzi Editions Umberto has an Urban stunning design featuring electric or manual recliners and headrests that work with heat sensitive studs discretely situated down the seat edge, that send the whisper quiet motion gliding forward and the headrest smoothly elevating. Again as with the choice of leather and fabric transforms this very grown up and contemporary design to suit Urban / rural or contemporary designer / rustic room settings. Natuzzi Editions also have a range of fantastic leathers from semi aniline chunky or smooth, protecta leather to cat 20 Maddison with a suade feel and natural cat 30 fully aniline leathers.
Comfort and seating is again medium soft, deep and topped off by the high back off the adjustable headrests.
Furnimax furniture Megastore Blackburn Road Accrington, Natuzzi Editions Gallery, are currently offering the club in stock for quick delivery in the following versions.
Three seater with power reclining action and headrests plus static two seater sets in of category 15 protected semi aniline leathers or as a modular arm to arm corner with seat and a half or singleseat sections and electric reclining end seats in a beautiful light grey or anthracite.
At £3500 for this gallery special offer we have a limited number in stock for a very quick delivery. Also order the club in a leather of your choice with an approximate 10 week lead time at the most competitive prices.
Visit at Blackburn Road Accrington Lancashire just 30 minutes from most Manchester Merseyside or Yorkshire areas.