Focus On Natuzzi Editions C141 Autentico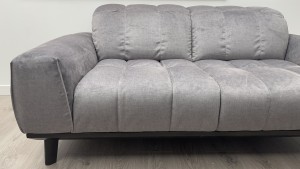 In terms of styling, one of the most Couture sofas available in any of the Natuzzi sofa ranges must be the Natuzzi C141 Autentico.
With a lower profile than most sofas and panelled seating area that continues up the back and over the headrest. Particularly suited to fabrics and set on an open base with complete winch Darkwood feature around the whole base seamlessly evolving into the legs.
The Natuzzi C141 Auténtico gives a reassuring sense of well-made manufacturing from the lovely comfortable seating. With quite a tall headrest when pulled up the Auténtico is full size in terms of seated comfort.
For the very best price and special offer on Natuzzi C141 Auténtico, The warehouse showroom sofa outlet at Accrington has an amazing offer click onto our all Sofas page.