Sud Form Italia Sofas Only Made In Italy.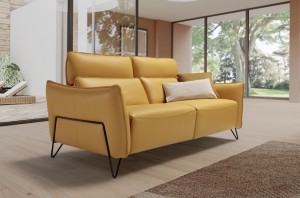 Sumptuous fabrics or Italian cowhide, genuine leather one of the many dilemmas, you may face when experiencing the stunning range of sofas, chaise suites, Corner groups or feature chairs from fabulous high quality manufacturer SudForm Italy.
With a brand-new range inspired by southern Italy, and created in the design centre in Puglia new innovations, marrying function, and form, comfort, and style mixed into some of the most stunning sofa designer creations in the world today.
Imagine being able to control your recliner mechanism both behind you and your head and below you and your feet into the most comfortable position.
With a range negotiated to have even stronger seating longevity according to Sofamax quality requirements.
Ordering Sofas, from Italy, often takes several months SudForm has proved to have a more reasonable lead time than other brands usually at around 8 to 10 weeks or you can choose from a great range in stock ready for immediate delivery of both three seater and two seater sofas, corner groups and feature chairs in stock ready for immediate delivery from Sofamax , warehouse and displayed in our warehouse showroom.
SudForm often employed design, consultants, as well as artist to create the stunning Sofa range.
Crafted, only in Italy in the Italian manufacturing plant he will never find a SudForm sofa made anywhere else.